Compass Pathways Stock: Psychedelics For Mental Health (NASDAQ:CMPS) #adessonews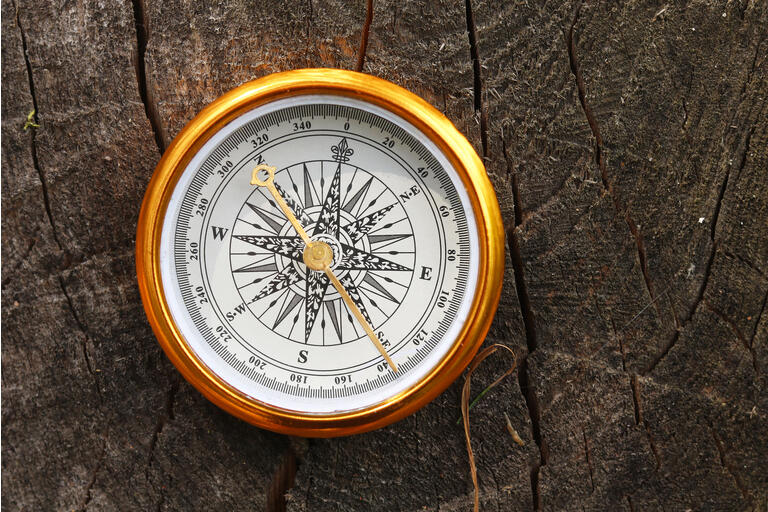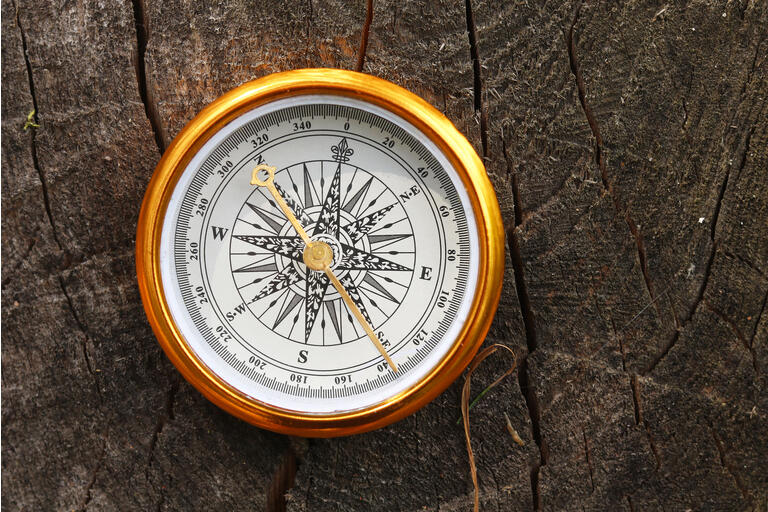 Juliasv/iStock via Getty Images

Source: Company
Summary
Compass Pathways (NASDAQ:CMPS) is the category leader in developing psychedelics as drugs to treat mental health disorders. The company is initially focused on developing a new drug for treatment resistant depression ("TRD"), a subset of major depressive disorder ("MDD"). This analysis is done in conjunction with Praxis Precision Medicines (PRAX) and is part of our thesis in investing in companies pursuing unique mechanisms of action ("MoA") to treat central nervous system ("CNS") disorders.
Compass Pathways' lead drug candidate, COMP360, is a formulation of psilocybin to treat TRD. Topline data from a phase 2 trial recently put out by the company showed promising efficacy in TRD patients but also had some safety concerns: Psilocybin clears biggest depression test yet, but Compass stock falls amid chatter about adverse events, durability
Psilocybin is classified as a schedule 1 drug and is a serotonergic hallucinogen. The FDA and DEA in the US have opened up use of this drug in psychiatric clinical trials. Over the last few decades, academic studies have established improved outcomes for patients with depression after psilocybin treatment. Founded in 2016, Compass received breakthrough therapy designation from the FDA in 2018 for COMP360. Then in 2019, the company completed a phase 1 clinical trial for the lead asset in 89 healthy patients establishing that COMP360 is well tolerated. This set up the phase 2 data released a few weeks ago.
Compass is aiming to use COMP360 as a single dose monotherapy in combination with psychological support for TRD and more. The biological hypothesis is that COMP360, and psilocybin in general, acts through the 5-hydroxytryptamine ("serotonin") 2A, or 5-HT2A receptor and induce various effects to alter the release of dopamine and serotonin and increase neuroplasticity. Early data suggests that psilocybin treatments can induce long lasting effects over several months, up to ~6. Whereas drug candidates with rapid onset, like Praxis' PRAX-114, are important to catch patients early and reduce suicide rates, medicines with long duration of effects are going to be important to reduce relapse rates. So in our opinion, Compass and Praxis are developing complementary drugs to treat depression. Compass is pioneering an entirely new class of medicine in neuro and is not only building moats in drug development but also delivery with its network of psychiatrists and facilities. However, Compass still needs to release more data from the phase 2 trials for COMP360 to clear up safety concerns. As a result, we recommend monitoring the stock until more data is released. But with a category leading position in psychedelics, Compass is building an enduring business with opportunities to expand into new indications and generate unique intellectual property, which is particularly important in the psilocybin field.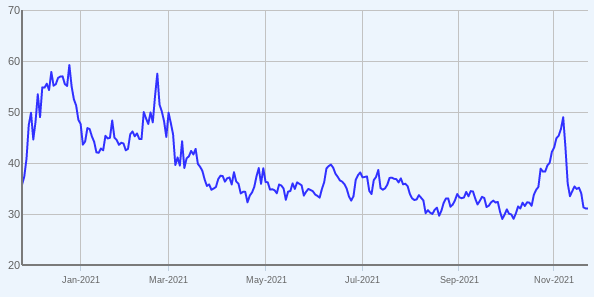 Figure 1: CMPS daily chart (Source: Capital IQ)
Opportunity
Compass Pathways' lead drug candidate, COMP360, is a novel formulation of psilocybin optimized for enhanced stability and higher purity in combination with psychological support from therapists. Both parts are essential for any psychedelic treatment. Going on a trip alone is too risky and a guide is needed. On a side note, non-hallucinogenic psychedelics like those developed by Delix Therapeutics ("Compass is an investor actually") could transform the field and allow for outpatient treatments. For a patient taking COMP360, the treatment session lasts around 8 hours consisting of a preparation session and a treatment phase. In phase 1 trials, Compass gave COMP360 to healthy volunteers in a controlled study supporting a phase 2 trial for TRD treatment ("N=216"). Most data around safety is needed for the phase 2 study in order to enable Compass to move to a pivotal, phase 3 trial.
Historically, between the 1950s and ~1980s, the only treatments for depression were monoamine oxidase inhibitors and tricyclics. In 1988, Prozac, a selective serotonin reuptake inhibitor ("SSRI") developed by Eli Lilly (LLY) was approved by the FDA. This revolutionized the field of depression with SSRIs still the most widely prescribed antidepressant globally. Just as much as depression had a lack of innovation for 3 decades between the 1950s and 80s, the field of drug development in depression hasn't moved beyond SSRIs for over 3 decades. Companies like Compass and Praxis are pushing the field forward and have the potential to develop medicines at the scale of Prozac for the 21st Century.
Drug development in mental health has moved toward identifying genes and neuronal circuits that alter brain physiology and neurotransmitter levels. This work has led to the development of drugs that modulate gamma-aminobutyric acid type A ("GABAA") receptors, which Praxis is involved in. For psychedelic-like medicines, esketamine, targeting the N-methyl-D-aspartate ("NMDA") receptor, has seen clinical success and FDA approval in 2019 by Johnson & Johnson (JNJ). The success of esketamine has led to an interest in psychedelic drug development and psychiatry in general from biopharma.
Compass is leading the way for translating psilocybin into an approved drug. But there are risks for the company and everyone in the field due to the complexity of depression. For example, developing new medicines for elderly patients (">65 years old") has been difficult in TRD due to lower response rates. Depression trials in general have higher placebo response rates creating difficulties to establish a clinical benefit in large, pivotal trials. But the antidepressant field is experiencing a revival of innovation. New medicines will need longer duration of effect and have a rapid onset of action. For patients with depression, early intervention is essential as well as increasing response rates while also decreasing relapse.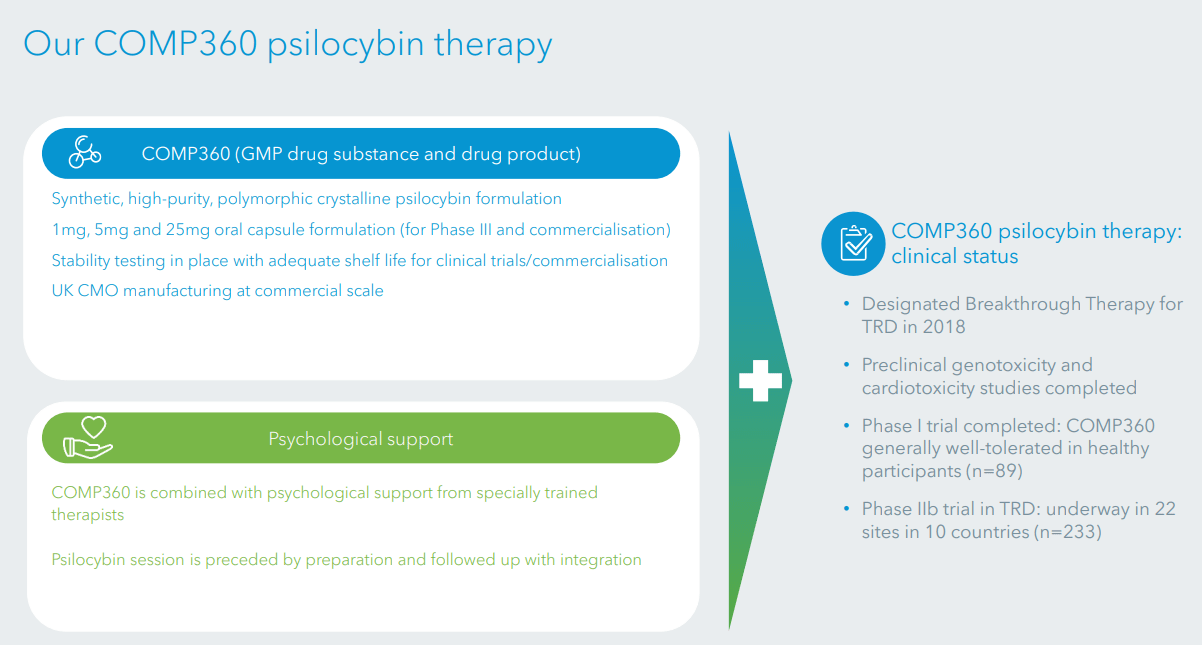 Figure 2: Overview on Compass Pathway's lead drug candidate, COMP360 (Source: Compass Pathways' Corporate Presentation)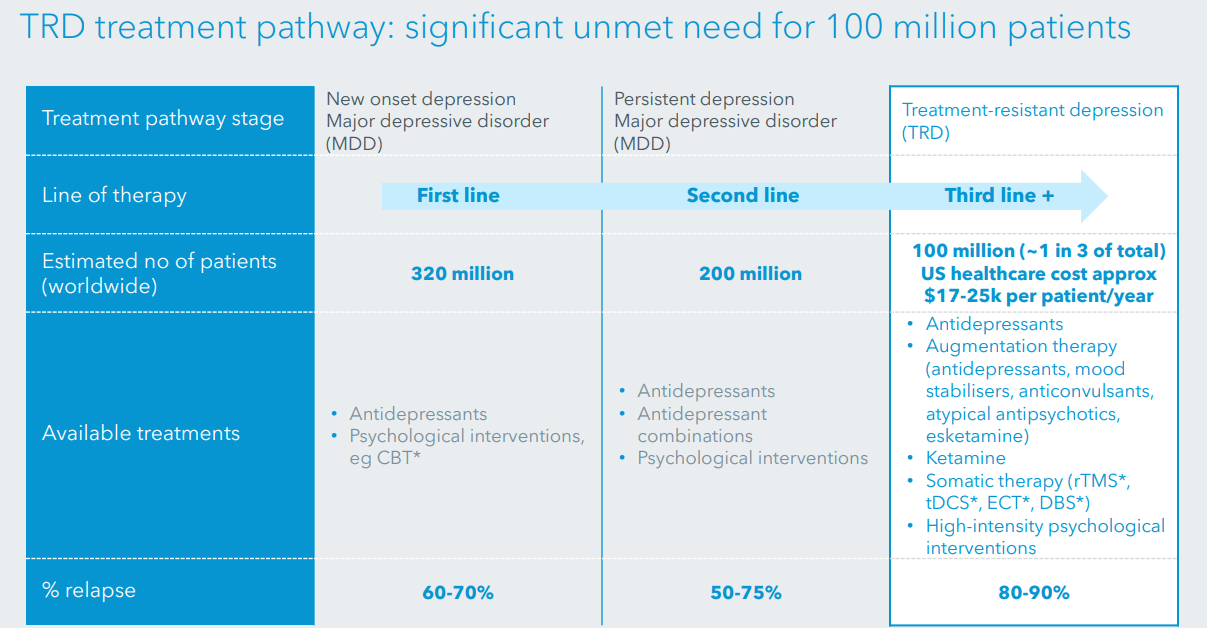 Figure 3: Overview on treatment resistant depression and the overall unmet patient need in depression for Compass to address (Source: Compass Pathways' Corporate Presentation)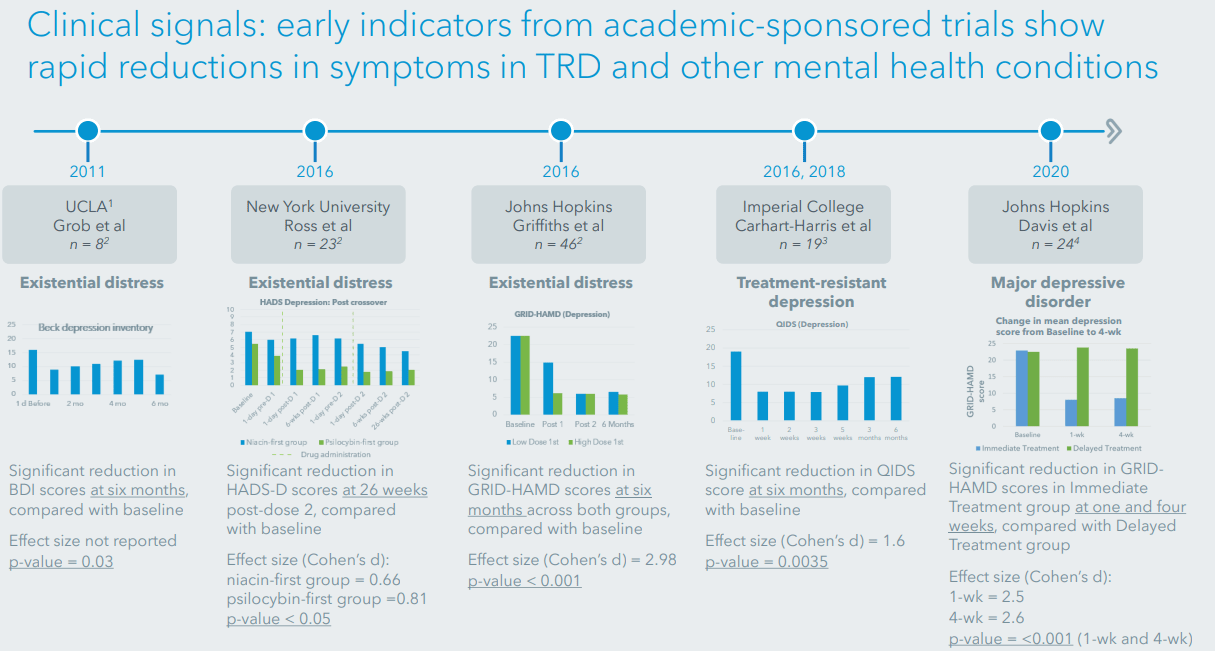 Figure 4: Historical clinical data of using psilocybin therapy to treat depression (Source: Compass Pathways' Corporate Presentation)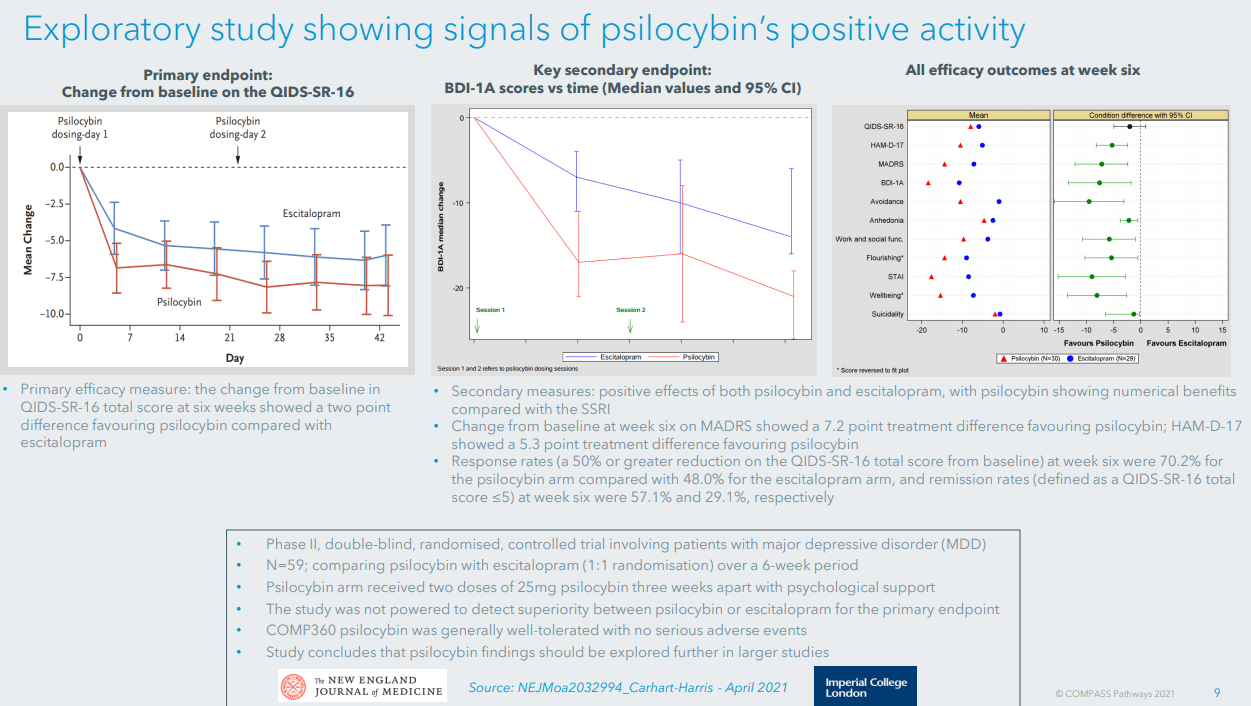 Figure 5: Early clinical data on COMP360's efficacy in depression (Source: Compass Pathways' Corporate Presentation)
Around the world 100Ms of people suffer from some form of depression. Within MDD, TRD affects around 100M patients around the world and a few million in the US. TRD is defined as depression that is not responsive to 2 or more treatments. In short, the medical costs of treating a TRD patient can be up to 3x higher than a non-TRD one and have around a 7x higher rate of suicide.
The current standard of care for TRD is severely lacking with limited efficacy and very high relapse rates. In the US, esketamine and a combination of olanzapine and fluoxetine ("SSRI") are currently approved to treat TRD. Psychotherapy and somatic treatments can be used but they often require multi-year time commitments and have high patient variance in terms of response. This is the opportunity for Compass and others to raise the bar in terms of response rates, onset, and efficacy for depression.
The valuation model for the company focused on the company's lead asset, COMP360. The model also assumes an FCF margin of 35%, discounting the company's ability to generate this cash flow from COMP360 over the lifetime of the product. One driver is the patent exclusivity for COMP360, which is still a controversial topic within the psychedelics field. Our model takes a conservative approach but Compass could undertake various IP extensions to maintain exclusivity on COMP360 for 5 to 10 years longer. The model also assumed a drug price of $40K similar to SSRIs and ketamine treatments. From this work, Compass Pathways in my opinion is trading at around its current market price.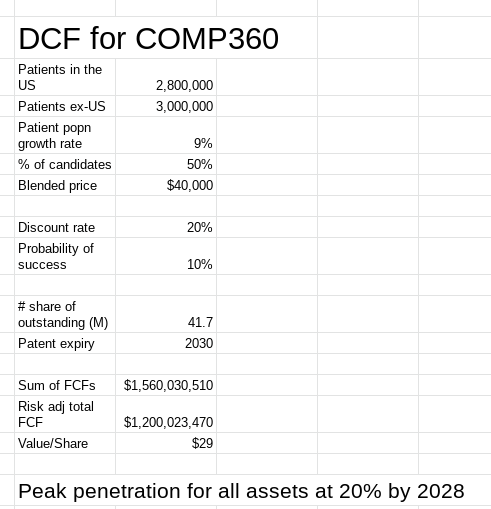 Figure 6: Valuation of Compass Pathways (Source: Author's valuation work, using base data from CMPS' 10-K)
COMP360 has the potential to become a pipeline in a pill for mental health disorders and more. TRD is the first indication and pending the phase 2 trial and beyond, Compass Pathways has plans to expand into MDD and additional indications. As a result, the entire business model of the company is focused on increasing access to psilocybin treatments. Compass does this through drug development and building out digital and psychology capabilities to support patients.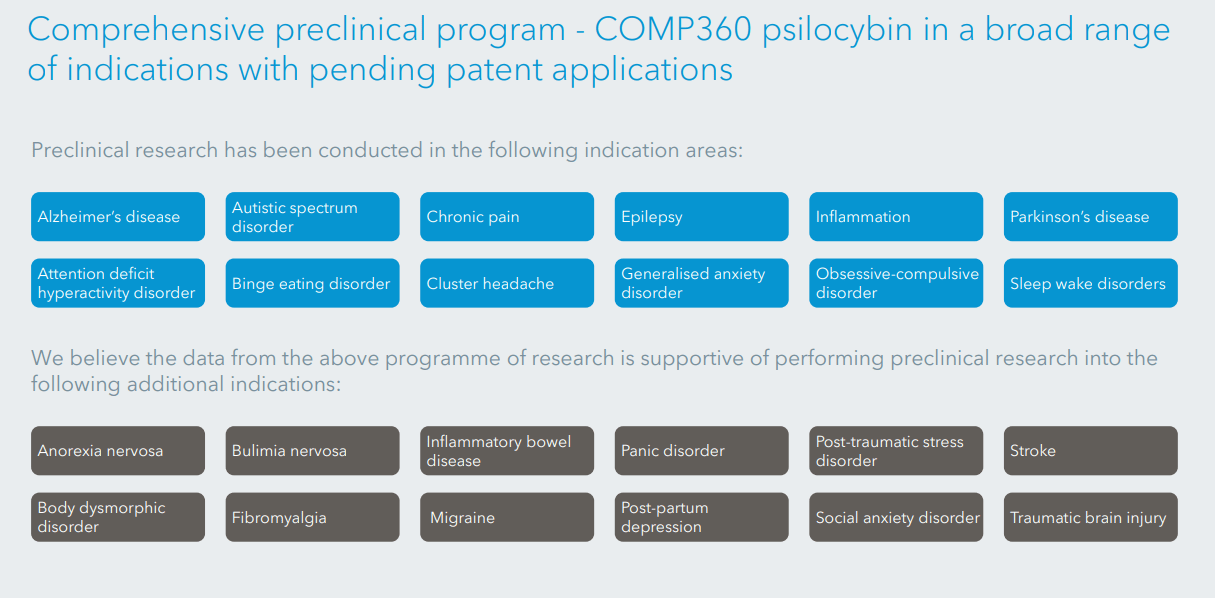 Figure 7: Opportunity for COMP360 to treat a wide range of mental health and CNS disorders (Source: Compass Pathways' Corporate Presentation)
Catalysts
Compass has around $290M in cash. More than enough cash to bring COMP360 through a phase 2 trial and beyond pending more clinical data. The key catalyst for Compass Pathways in 2021 was topline data for COMP360 for the phase 2 trial. Potential safety issues have led to a need for more data. Pending an update, the company is expecting to begin the pivotal, phase 3 trial of COMP360 for TRD in 2022. However, Compass could start this trial with the current safety issues. In our opinion, it is wise to just wait and see. The safety issues might become more acute and should be analyzed thoroughly. Or Compass could just initiate the large phase 3 trial, whether there are safety concerns or not, and act as a milestone to push the company's stock price higher. Beyond COMP360, the company could also expand their collaborations and close new partnerships. Compass Pathways is definitely a single-asset company right now with most, if not all, their eggs in the COMP360 basket.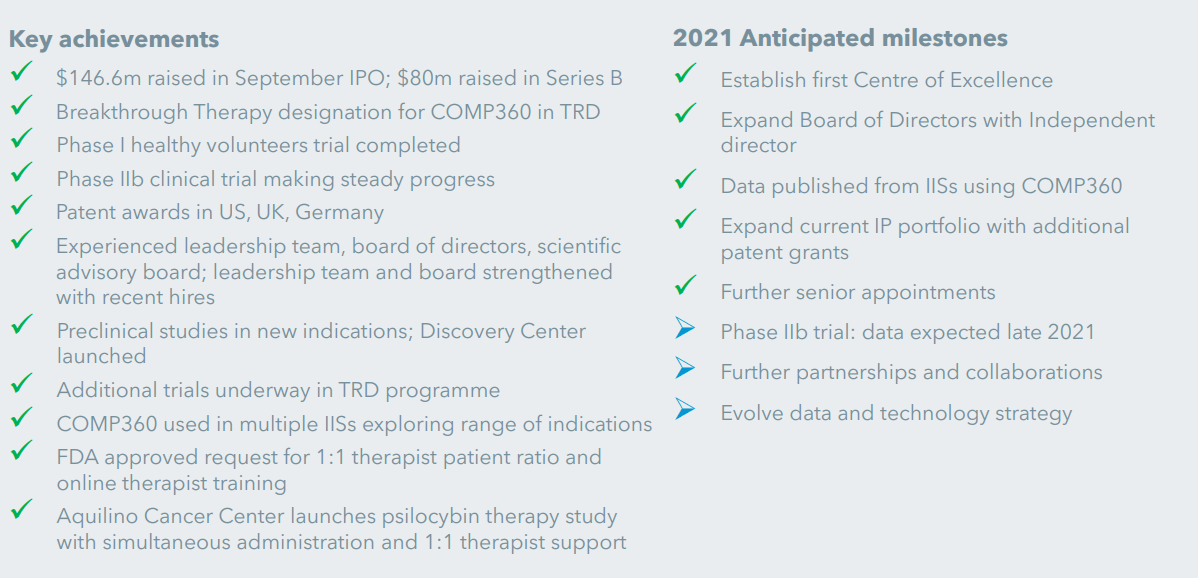 Figure 8: Catalysts and overview on Compass (Source: Compass Pathways' Corporate Presentation)
Risks & Challenges
Compass has one large and glaring risk: it is a single asset company for a new area of medicine. This is what makes it a category leader as well. Compass has the potential to drive forward the approval of the first psilocybin therapy. Along the way, if the company can also build up moats around treatment delivery, Compass can expand its pipeline of treatments and build a platform around COMP360. But if safety concerns grow and persist, Compass may have to go back to the drawing board with COMP360 in terms of formulation, dosing, trial design, indication, or all four. This risk is too large and why we recommend monitoring the stock into 2022 until the company gives an update on the phase 2 trial and the potential of a pivotal one. Ultimately, COMP360 could transform the lives of TRD patients and more or could be a first mover that fails in trials but establishes a set of clinical standards for other drug candidates to go through.
Conclusions
Compass is the leader in developing psilocybin to treat depression. A novel formulation and delivery network is setting up the company to increase patient access to psychedelics. By pioneering the use of psilocybin in combination with psychological support, Compass is translating research over the last decades done in academic labs into a potential FDA approved treatment. Whether COMP360 is approved or not in TRD, Compass is doing the heavy lifting to establish clinical standards for psychedelic drug development.
Compass is solving the relapse problem in depression. Whereas Praxis is focused on the onset problem. For the former, currently approved antidepressants and psychotherapy work for a subset of patients but have >50% relapse rates. Beyond the drug, clinicians use a trial-and-error approach to treat patients with a range of approaches. Going beyond monoamine receptors was a massive breakthrough in the field in the late 1980s. Similarly, going beyond SSRIs now is having a similar patient impact. On top of this, combining new medicines with psychology and behavioral support, and patient tracking can bring more precision and increase response rates. Esketamine is a first mover for psychedelics forming a swell of interest in the field and setting up Compass to pioneer the use of psilocybin. New MoAs are still needed because even esketamine has pretty high relapse rates. As Compass continues to map out the mechanism for psilocybin, the company ought to be able to expand into indications like anxiety, eating disorders, epilepsy, sleep disorders, and a lot more.
The thesis to invest, after an update on COMP360's phase 2 trial, in Compass is premised on the following:
A lead drug candidate that has the potential to be first in class for TRD.

The ability for COMP360 to become a pipeline in a pill and rapidly expand into new indications from MDD to PTSD and Alzheimer's.

Given Compass Pathways' category leader position in psychedelic drug development, the company has the ability to executive partnerships to fund expansion of use for COMP360 and diversity its pipeline over time.
Clicca qui per collegarti al sito e articolo dell'autore
"https://seekingalpha.com/article/4471609-compass-pathways-psychedelics-for-mental-health"
Pubblichiamo solo i migliori articoli della rete. Clicca qui per visitare il sito di provenienza. SITE: the best of the best ⭐⭐⭐⭐⭐
Clicca qui per collegarti al sito e articolo dell'autore
La rete Adessonews è un aggregatore di news e replica gli articoli senza fini di lucro ma con finalità di critica, discussione od insegnamento, come previsto dall'art. 70 legge sul diritto d'autore e art. 41 della costituzione Italiana. Al termine di ciascun articolo è indicata la provenienza dell'articolo. Per richiedere la rimozione dell'articolo clicca qui